Potato Cutlets (Aloo Chop)
Quick and easy, and less than 30 minutes to make!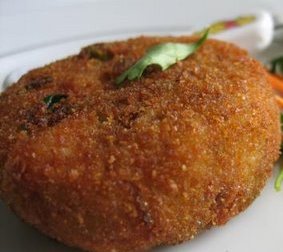 Ingredients: (Serves 4-6)
3 large potatoes
1/2 can sweetcorn
Scallions/Spring onions
Chillies (optional)
Onion
Spices: 1/2 tsp cumin, 1/2 tsp coriander, 1/4 tsp chilli powder, 1/4 tsp black pepper, salt to taste
2 eggs
Cooking oil
How to:
1. Wash the potatoes, leave skin on, and place in microwave for 6 minutes. (You don't want to boil the potatoes since they'll release too much moisture).
2. Mash up the potatoes
3. Add a handful of sliced scallions/spring onions, less than a 1/4 of a finely diced onion, 1 diced chilli (optional), 1/4 tsp salt, 1/4 tsp black pepper, 1/4 tsp coriander powder, and 1/2 can of sweetcorn. Mix all ingredients well.
4. Add 2 eggs to bind the mixture and mix all ingredients together really well.
5. Gather enough mixture into your hands and flatten to make an oval shape.
6. Place in about 6 tablespoons of hot oil (just use enough to coat the cutlets/chops so they can brown evenly).
7. Fry until golden brown all over and serve hot.
Recommendations: For a complete gourmet meal, serve as an accompaniment to any main dish, in particular Bangla Roast or Chicken Korma along with a side salad and pilau rice.
Recipe by Sabina Huq