About Sabina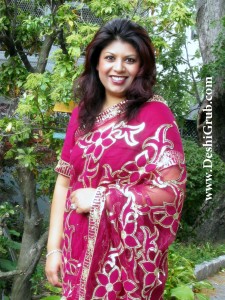 "Be creative and have fun whilst cooking!
Remember that every accident is a new opportunity in the making!" – Sabina Huq
Inspired by the movie "Julie & Julia" and the act of actually finishing what I had set out to do a really long time ago……I decided to put together a website full of all my recipes. Some have been passed down from my mother, others (mostly others) are based on interesting concoctions that I have tried out over the years via trial and error. Needless to say, they work!
Who am I?  No one special. Just an average Bangladeshi woman (of Sylheti descent) currently living in the U.S with a passion for experimenting with cooking.  I was born and raised in the UK,  I have a background in Law & Health Care Ethics and I spent several years working for the UK National Health Service (NHS) before moving to New York in 2001 to join my husband. Since then, we've lived on both the East and the West Coast and today, my heart resides in Westchester County, NY.
Outside of the kitchen, I'm a licensed real estate agent in Westchester County, NY and I love advising first time homebuyers in the purchase of their new home. I'm brokered by eXp Realty, one of the world's fastest-growing real estate brokerages presently in over 24 countries! If you're local to NY, you can check out my website here.
Why did I decide to create this website? Well, firstly there appears to be a market for Bangladeshi recipes online and secondly, it's pretty much a given that today's working women cannot escape the daily household chores that have to be done, in particular – cooking. With this in mind, I came up with some easy recipes for the busy woman (some of which will take you around 30 minutes, others, somewhat longer).
So come on inside and take a peek. I promise you won't be disappointed; and best of all, you don't have to be "Deshi" to make these dishes.  Above all else, be creative and have fun whilst cooking! Remember that every accident is a new opportunity in the making!
I'd like to reiterate that only some of the dishes are authentic Bangladeshi recipes, others are my own concoctions in my attempts to find easier, healthier, contemporary ways of cooking Bangladeshi food without feeling like I'm missing out.  Most of the ingredients I mention can be found at your local supermarket, so no need to worry about making that extra trip to a South Asian store miles from anywhere.
All I ask is that you shoot me an email to let me know of a recipe you particularly liked or disliked. I'm always open to constructive criticism! Also, please email me with any recipes that you'd like to share. I promise to post them right away!  And last but by no means least, my sincere thanks to all my friends and family who have contributed their recipes to this website (keep them coming), and to Abba (my father) for his assistance in helping me write a brief synopsis of our beloved Sylhet.
By the way, my apologies for what may seem like spelling errors – I wasn't sure whether to spell certain things (like yogurt/yoghurt) the American or English way!
"Julia Child began learning to cook when she was thirty-seven years
old.  She started because she wanted to feed her husband Paul.  She
started because though she'd fallen in love with great food late, when
she did she'd fallen hard.  She started because she was in Paris.  She
started because she didn't know what else to do."
Quote from The Julie/Julia Project
Email me your recipes to [email protected] or click here to leave a comment about the site.