Chicken Korma
Kids and newcomers to "indian" food love this dish since it's not spicy and tastes really good. I say "indian" food because the majority of people are not familiar with Bangladesh and its cuisine, despite the fact that it makes up a large portion of what's available. In actual fact, most "indian" restaurants in the UK are owned by Bangladeshi's and most often than not, you may see a traditional Bangladeshi dish or two on the menu.
Korma can be made in a variety of ways, some using more spices (such as cardamoms, cloves etc) more than others. I want to offer you the quick easy version, without all the fuss.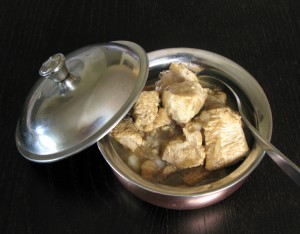 Click image to enlarge
Ingredients:  Serves 6
1 whole chicken, cut into about 12 pieces, no skin. You can also use just chicken breasts, leg quarters or drumsticks (its all about preference).
2 large onions, 6 cloves of garlic, 1 inch piece of ginger (or 1 heaped tsp of ready made garlic and ginger paste).
Cooking oil
1 -2 6 oz pots of low fat yogurt (or 1/2 can low fat coconut milk, or if lactose intolerant, any dairy substitute).
Spices: 1 and 1/2 teaspoons of coriander powder, 1 tsp of salt, and 1/2 tsp garam massala powder (garam massala is optional if you don't want to put any spice in it at all).
How to:
1. Dice up 1 and 1/2 onions finely and fry in 2 tablespoons of hot oil until they brown.
2. Using the other half of the onion, blend in a blender with the garlic and ginger for 1-2 minutes. (If using the ready made garlic and ginger paste, fry both the onions and once brown, add a heaped tsp of the paste).
3. Once the onions are brown (10-12 mins later), add the blended mixture and fry for 2 minutes.
4. Lower the heat and add the spices as indicated above. Mix well with a wooden spoon and add 1 cup of water to make a smooth paste. Cook for 10-12 minutes adding water as necessary to avoid the massala drying up.
5. Add the chicken and turn up to a high heat. Cook the chicken for 20-25 minutes allowing it to brown evenly. Stir occasionally to ensure the chicken doesn't stick to the bottom of the pan.
6. Once the chicken is almost cooked (ie. no longer pink), lower the heat, and add a pot of plain non-fat yogurt (or lite coconut milk) stirring it first before adding it to the chicken. Stir in well to avoid it curdling.
7. Lower the heat and put the lid on. Simmer for 10-12 minutes before removing from heat.
Tip: If cooking for a dinner party and you don't want the Korma to get cold, pour it into an oven proof dish and place in oven on 325-350 degrees c and let it sit there until you're ready to serve it. The result? Almost turns out like Bangla Roast! Very tasty!
Recommendations:  Serve with Pilau rice or Paratha and a mixed salad (Bangla style).
Note:  For instant taste, see if you can buy a ready made korma mix called "Moghlai Korma Massala." Use instead of the coriander powder and garam massala mentioned above and just add salt to taste. It tastes awesome!
Growing up, my mom used to make Chicken Korma and paratha on Eid. I now replicate the same every Eid without fail!
Recipe & image by Sabina Huq