Kaala Chana aka Bhut Bhaji
One of the most frustrating things about cooking this dish is the amount of time it takes to boil the chana so that it's edible. I will therefore give you two methods of preparation, one is the old fashioned method of boiling the chana in a pan on the stove; the other is the pressure cooker method….which is my method of choice. For those of you who are not familiar with the type of chana used, this dish is traditionally made during the month of Ramadan with "kaala chana" which is the dried black chick peas found in most grocery stores in the section where the lentils, barley, rice etc. are stored. It goes well with "Muri" (puffed rice) or with Kichuri (lentil rice).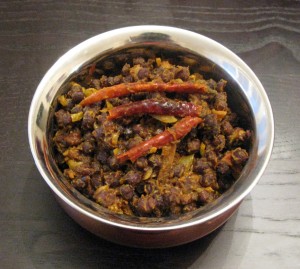 Click image to enlarge
Ingredients:  (Serves 8-10)
1 packet (equates to about two large coffee mugs) of Kaala Chana (black chick peas)
1 onion
3 inch piece of ginger (finely sliced or grated)
1 large ripe tomato
5-6 chillies (of your choice. Fresh green or dried red chillies).
1 cardamom, 1 bayleaf, 1 cinammon stick
Spices: 2 tsps of salt, 1 level tsp of turmeric, 1/2 tsp coriander powder, 1/4 tsp cumin powder.
Optional: sprinkle of whole cumin seeds
How to:
1.  If using the stove top method, boil the chana in a pan of hot water. I would suggest using a large pan so that you have room to add more hot water as needed since the cooking time can be anywhere from 1 and half hours to 2 hours. One trick is to soak the chana in a pan the night before and add a little baking soda (1 tsp). This will soften the chana somewhat, allowing less cooking time. Be sure to wash the baking soda away before boiling though.
2. If using the pressure cooker, place the chana in the pressure cooker with just enough water to cover the chana (1 -and 1/2 large glasses of water should do it). Place on the stove to boil.
3. For either method – prepare the ginger by slicing it thinly or grating it finely with a cheese grater. Add to the pan/pressure cooker. Add 2 tsps of salt, the cinammon, cardamom, and bayleaf as indicated above. Allow to boil. If using the pressure cooker, place the lid on top once the water is fully boiled, and allow to cook for 30 mins. This should be sufficient for the chana to soften. Be careful not to overcook it and make it mushy. You want the chana to be a touch hard to give it some crunch.
4. Once the chana is fully cooked, remove from stove and drain. Before doing so, keep aside about 4-6 tablespoons of the boiled chana water aside (in a bowl) so it can be used when frying the onions.
5. Next, dice one onion finely. In a little oil, fry the onion until almost brown. (If using cumin seeds, add just a sprinkle and fry for 1 minute). Lower the heat and add the spices as indicated above. You may or may not need to add salt at this stage since you added it when boiling.  Just check for taste to make sure.
6. Add 1 chopped tomato and the chillies of your choice to the onion and allow to fry. As it starts to dry up, add the water you saved from the boiled chana so that a sauce is formed. Allow to cook for 2 minutes and then add the chana/chick peas. Allow to coat in the flavors by leaving it on the stove for about 5-6 minutes or so until the sauce has almost dried up. Stir intermittently as you don't want it to get mushy. Some people like it with a little more sauce, others like it completely dry. You'll have to gauge it depending on preference. And that's really all there is to it! Enjoy with "muri" (puffed rice) or with Kichuri.
Recipe & image by Sabina Huq