Bhuna Kichuri (Lentil Rice)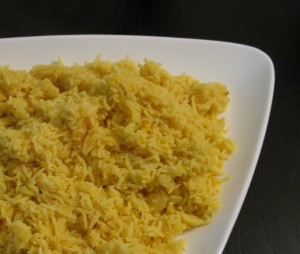 Kichuri (or Kedgeree as it is often called in the UK) is a lentil based rice dish traditionally eaten during the month of Ramadan since it is easy on the stomach after a full day of fasting. It can be made either with a lot of water (a favourite with the older folks) or with very little water. I prefer the latter version since it is much tastier and you don't have to wait for Ramadan to eat it.
Ingredients: (Serves 4)
For this dish, you'll want to use 1 cup of lentils for 2 cups of rice. So if increasing the quantity, use this measurement.
1 cup red lentils
2 cups plain white basmati rice
1 medium sized white onion
1/2 tsp salt, 1/2 tsp turmeric
2 Tablespoons oil of your choice
2 Fresh green chillies (optional)
How to:
1. First you need to wash and drain the rice and lentils. You can do this by mixing the two in a seive and running water through it until the water runs clear. Allow to sit and dry out for 10 minutes at the minimum.
2. Prepare the onion by slicing it into thin strips.
3. In a non-stick pan, heat up two tablespoons of hot oil and fry the onion until brown. (Choose a pan that allows you to add water. The denser the better when making rice).
4. Add 1/2 tsp of turmeric and 1/2 tsp of salt. (Add more salt and turmeric if you have increased the quantity). Fry for 2-3 minutes and then add the rice and lentil medley. Fry for 5-6 minutes on a medium heat stirring all the while.
5. Using water from a kettle, add enough water to cover the rice and lentils and then add an additional 16oz . Turn up the heat and boil the kichuri until most of the water evaporates. Do not stir again.
6. Lower the heat, put the lid on and simmer for 5-6 minutes. Do not stir.
7. Slit 2 green chillies sideways and add to the kichuri when serving (optional). Fluff up when serving.
Recommendations: Best eaten with Dim Bhuna, Ilish Mach or any chicken or meat dish. It's also really tasty all on its own!
Recipe & image by Sabina Huq