Spicy Chicken Wings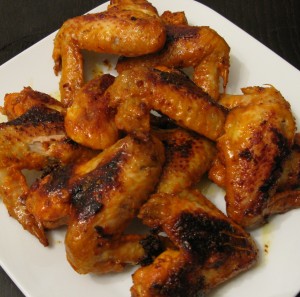 Click image to enlarge
Ingredients (serves 3-4)
10 chicken wings
2 level tablespoons olive oil
Spices:  1 level tsp salt, 3/4 tsp paprika, 1/2 tsp turmeric, 1/2 tsp black pepper.
1 tsp sugar, 1 tsp honey
3 gloves of fresh garlic and 1/2 inch cube of fresh ginger very finely grated (you can use 1/2 tsp each of garlic and ginger powder if it's easier).
How to:
1. Wash wings well and pat try with a paper towel.
2. Mix the spices together along with the sugar and honey. Rub the wings into the mixture really well. Add oil and mix well.
3. Place on the grill or on a skillet and cook until well done and nicely browned.
Enjoy with hot chilli sauce, BBQ sauce or just as they come!
Recommendations:  For a real treat, try the chicken wings with the Mango & Black Bean Salad as seen here!
Recipe & image by Sabina Huq