Mango & Black Bean Salad
This salad is easy, incredibly tasty and packed with protein! 
Try it.  I promise you won't be disappointed!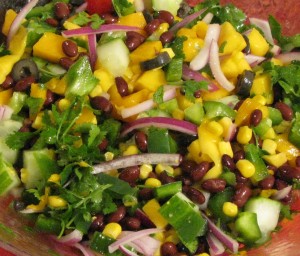 Recipe featured in "American Lifestyle" Magazine – Dec/Jan 2011.  
Ingredients: (Serves 4)
2 ripe (but not mushy) mangoes
1 can of black beans
1/2 red onion
1 green pepper
1/2 cup sweetcorn
1/2 cup black olives (optional)
Fresh coriander, salt, sugar, lemon juice, green chillies (optional)
How to:
1. Peel and slice the mango into medium sized cubes. (If you cut them too small, they'll make the salad mushy).
2. Slice the red and green peppers into small squares. Dice 1/2 red onion.
3. Wash and drain a can of black beans.
4. In a bowl, mix all the above ingredients along with a handful of fresh chopped coriander leaves, and 2 sliced green chillies (optional).
5. In a cup, prepare the dressing: 1/2 tsp salt, 1 tsp sugar, 2 big squirts of lemon juice. Taste to see if you need to add a little more sugar. The mangoes should make it sweet enough though.
6. Add the dressing just before serving.
Recommendations: Goes really well with grilled or barbequed food.
Recipe submitted by Mrs. Saqui Huq
Image by Sabina Huq