Cumin Chicken
This is a simple recipe that I concocted after being inspired by a dish I tried at a Halal Chinese Restaurant. I actually tried the beef version (which you'll find on this site) but I thought, why not see how it tastes with chicken.  Naturally, I added my own twist to it with the addition of the green beans and curry powder.  So here it is – yet another quick, healthy dish prepared and on the table within 20 minutes!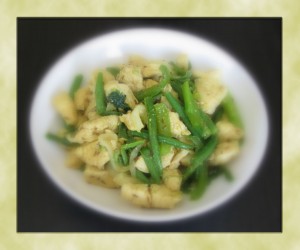 Click image to enlarge
Ingredients: (Serves 4)
2 lb chicken breast
1 small packet of green beans
1/2 white onion
1/2 green bell pepper/capsicum
2 stems scallions/green onions
1 tsb canola or vegetable oil
A small handful of fresh coriander/cilantro leaves
3 garlic cloves
Spices:  1 heaped tsp fresh cumin seeds, 1/2 to 1 tsp salt (or to taste), 1/2 tsp curry powder
How to:
1. Wash the chicken thoroughly and cut into bite size pieces. The smaller they are, the quicker they'll cook.
2. In a wok or large frying pan, heat up 1 tbs of oil and add 3 cloves of garlic sliced thinly. As they start to brown very slightly, add the fresh cumin seeds. Allow to fry for about a minute until you see the cumin seeds expand slightly.
3. Add 1/2 white onion sliced thinly. Fry for one minute.
4. Add the salt and curry powder followed by the chicken. Stir-fry for 5-6  minutes.
5. In the microwave or in a saucepan – prepare the green beans. You want to cook them until partially cooked.
6.  Add the green pepper/capsicum and green beans and continue to stir-fry for 3 minutes.
7. Check if the chicken is completely cooked and if so, add the scallions/green onions chopped roughly.
8.  Stir-fry for another minute and then remove from heat.
9. Sprinkle a handful of fresh coriander/cilantro leaves prior to serving.
Recommendations:  Enjoy with white or brown rice or for some extra zest, try it with coconut rice.
Recipe & image by Sabina Huq