Cumin Beef
Having tried this dish at a Halal Chinese restaurant recently, I decided to try and replicate the recipe by adding my own personal twist to it.  The result was pretty amazing! And in less than 20 minutes to make, this makes a quick, delicious meal in no time at all! You can also substitute the beef with lamb – your choice!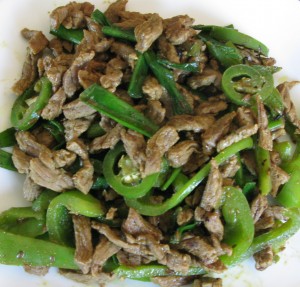 Click image to enlarge 
Ingredients: (Serves 3-4)
Spices: 1 heaped tsp of fresh cumin seeds,  1/2 tsp curry powder, 1/2 to 1 level tsp of salt (or to taste)
1/2 inch piece of fresh ginger (very thinly sliced)
1 tbs oil (can use canola, vegetable or sesame)
1 and 1/2 lb beef (cut into thin strips)
2 stems of green onions/scallions
1/2 green bell pepper/capsicum
1/2 jalapeno or 2 small green chillies (optional)
How to:
1. Prepare the meat by thoroughly washing it and then slice into small thin strips. The thinner they are, the quicker the meal will be on the table!
2. Using a wok or large frying pan, heat up 1 tbs of oil. My guess is you could substitute the vegetable or canola oil for something more aromatic such as sesame oil, but if you want to keep it low-key, stick to the former.
3. Add the cumin seeds to the hot oil and allow to fry for 1 minute. You'll see how they start to expand once in the hot oil. This indicates that they are done. Add the sliced ginger and stir for 30 seconds or so.
4. Add the beef and stir fry for 2-3 minutes.
5. Add the salt and curry powder and continue to cook for a further 6-7 minutes.
6. Add 1/2 green bell pepper/capsicum.  Slice thinly and cook for 2-3 minutes.
7. Test the meat to make sure it is cooked. If so, add the sliced chillies and the spring onions/scallions. Stir fry for a further minute and remove from heat. And that's really all there is to it. Enjoy!
Recommendations:  Serve with hot rice of your choice.
Recipe & image by Sabina Huq