Grilled Salmon with Orange Glaze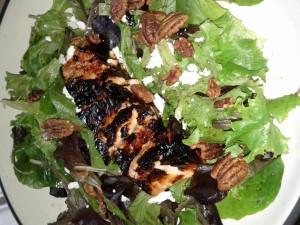 Ingredients:
1/2 cup orange marmalade
2 tsps each sesame oil and soy sauce
1/2 tsp grated fresh ginger root
1 garlic clove, crushed
3 Tbs. white rice vinegar (or other white vinegar)
1 pound boneless, skinless salmon filet cut in four pieces
6 thinly sliced scallions with some green (optional)
1/4 cup toasted sesame seeds (optional)
How to:
Combine marmalade, oil, soy sauce, ginger, garlic & vinegar. Heat grill. Brush orange glaze on each side of salmon and grill about 6-8 minutes on each side. Top with scallions and sesame seeds and serve.
Recommendations:  Serve with Goat Cheese and Mandarin Orange Salad
Recipe & image by Rica Ruiz