Goat Cheese & Mandarin Orange Salad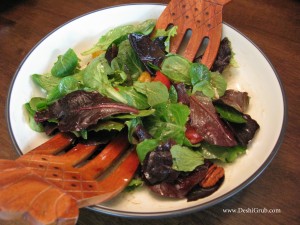 Click image to enlarge
Ingredients: (Quantity depends on you)
Baby Lettuce
Tomatoes
Goat Cheese
Mandarin Oranges
Candied Pecans
Dressing:
2 tbsp orange juice concentrate or 1 tbsp orange juice
4 tbs olive oil
1 tsp cumin powder
1 and half tbsp balsamic vinegar
2 garlic cloves – crushed
1/4 tsp salt
How to:
1. Place all ingredients into a large bowl and prepare the dressing in a separate bowl.
2. Pour in the dressing.
3. Mix well and serve.
Enjoy!
Recipe by Rica Ruiz  / Image by Sabina Huq