Vegan Mango & Cardamom Cake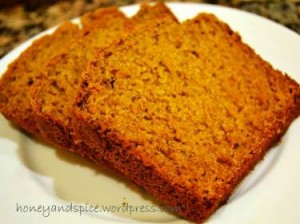 Ingredients:  Makes one 20 x 10 cm (8 x 4 inch) loaf  (12 slices)
300 g (2 c) wholemeal (whole wheat) flour
1 teaspoon baking powder
1 teaspoon bicarbonate of soda (baking soda)
¼ teaspoon salt
1 teaspoon freshly ground green cardamom
520 g (2 c) sweetened mango pulp*
4 tablespoons olive oil
50 g (¼ c) unrefined cane (turbinado) sugar** or to taste
2 tablespoons ground linseed (flax seed meal)
* Available in tins (cans) at your local Indian store. I know that die-hard vegans out there would not consider this ingredient as vegan-friendly, as there is no indication of whether the added sugar is processed with bone meal or not. If this concerns you, use fresh mango pulp and add more vegan-friendly sugar to the recipe.
How to:
1. Preheat oven to 180°C (350°F).
2. Grease or line one 20 x 10 cm (8 x 4 inch) loaf tin (pan) with parchment paper.
3. In a large bowl, stir flour, baking powder, bicarbonate of soda (baking soda), salt and cardamom together.
4. In another bowl, beat together mango pulp, olive oil, sugar and ground linseed (flax seed meal) together.
5. Fold the wet ingredients into the dry ingredients until just incorporated. Do not overmix.
6. Pour into prepared tin (pan) and pop into preheated oven.
7. Bake for 45-55 minutes or until a skewer inserted into the middle of the loaf comes out clean.
8. Let cool on a wire rack, before turning out, slicing and enjoying.
Recipe & image submitted by Linda Lai