Flourless Orange & Almond Cake
Try this gluten-free dessert! You won't believe how good it tastes! Not only that, if you're like me, and not much of a baker, this is the easiest cake you'll ever make!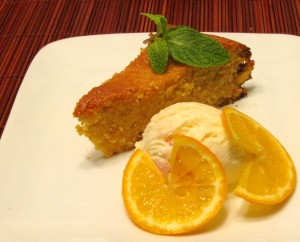 Recipe featured in "American Lifestyle" Magazine  
Ingredients:
2 medium sized oranges (naval or other)
1 cup almond meal or 1 cup finely ground almonds
1 cup caster sugar
4 eggs
1 tsp vanilla essence (if you have it)
1/2 tsp baking soda (if you have it)
How to:
1. Wash the oranges well and boil in a pan of water for 1 hour. Make sure you put in enough water to cover the oranges completely. (This is the most consuming part, the rest is quick).  Once soft, drain and keep aside.
2. Pre-heat the oven at 350 degrees c.
3. In a blender or food processor, blend the oranges including the peel. 
4. Add the remainder of the ingredients as above and blend well.
5. Using a paper towel, grease a 9″ pan or loaf pan with a touch of oil, pour in the mixture.
6. Place in oven at 350 degrees c for 1 hour and 20 minutes.  Check with a toothpick to ensure the cake is thoroughly cooked then remove from oven.
Recommendations: For a real treat, serve with one scoop of vanilla ice cream, decorate with a mint leaf and a slice or two of orange if you're aiming to impress!
Recipe Submitted by Piano Ahmed
Image by Sabina Huq