Spinach & Apple Salad
This salad is easy to make, tastes great and since I'm using apple as the secondary ingredient, there's no need for any salad dressings.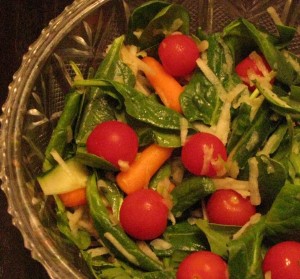 Ingredients: Serves 2-3
1/2 bag of fresh spinach
1/4 cucumber cut into chunky slices
10 cherry tomatoes
1 green apple
15 baby carrots or 1 carrot cut into slices
How to:
Cut up the cucumber and the carrot (if you are using whole carrot) and place in a salad bowl. Add the cherry tomatoes and spinach leaves and then peel 1 green apple. Cut in half, taking care to remove the pips, and then using a cheese grater, grate the apple. Add in the bowl and mix well. Serve immediately so the apple doesn't turn brown or add the apple later just before serving.
Recommendations:  Tastes great with Easy Baked Chicken
Recipe & image by Sabina Huq