Shrimp, Avocado & Black Bean Salad
Using fresh produce from my friend's avocado and lemon trees, I came up with this super easy, super tasty protein-packed salad!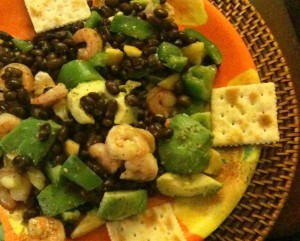 Click image to enlarge
Ingredients:  (Serves 2)
1 lb fresh or frozen shrimp
1 semi-ripe avocado
1 can black beans
1/2 fresh lemon (with peel)
1/2 green pepper (aka bell pepper)
1 tsp olive oil
1 level tsp sesame seeds
Touch of salt, pepper, and cumin powder
Optional: crushed chilli flakes and fresh cilantro/coriander leaves.
How to:
1. In a small fry pan, heat up 1 tsp of olive oil and toast the sesame seeds until almost brown.
2. Add the shrimp (once thawed and washed), and pan-fry until cooked.
3. Prepare the green/bell pepper by dicing it finely; wash and dice the lemon finely (leaving the peel on); roughly cut the avocado into cubes; and wash and drain the can of black beans.
4.  Place the shrimp and all other ingredients into a large bowl along with a little salt, pepper and a dab of cumin powder. Mix well.
5.  Optional: when serving, you can add some crushed chilli flakes if you like, or a little fresh cilantro/coriander.
Recommendations: This is a complete meal, so enjoy with a couple of crackers or saltines if desired.
Recipe & image by Sabina Huq