Potato & Leek Soup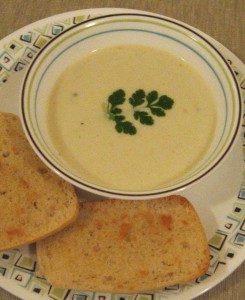 Click image to enlarge
Ingredients:
1 lb leeks (about 5) washed, dark green part removed, chopped into small pieces. 
4 medium sized white potatoes, peeled and chopped into small pieces.
3 tbsp butter
1/4 tsp salt
1 tsp "Everyday Seasoning with Grinder" from Trader Joes (if you can't find it use the following : 1/4 tsp salt, 1/8 of tsp each of black pepper, coriander powder, onion powder, paprika and chilli flakes. You can add more spice if you want your soup to be more spicy).
2 cups vegetable broth + 2 cups water
2 cups half & half (half milk, half cream)
 
Method:
1. In a 5 qt pan melt the butter and add the chopped up leeks.  Stir gently for about 5 mins till you see leeks wilt. 
2. Add salt, cover and leave on low heat until leeks are softened, roughly about 30mins.  Stir every now and again to make sure that it's not sticking to pan.
3. Add potatoes, broth and water.  Bring to boil, reduce heat to simmer, cover and leave till potatoes are soft (approx 40mins).  Stir every now and again to make sure soup is not sticking to pan.  If it starts to stick before potatoes are soft add a little more hot water.
4. Once done, remove pan from heat.  Puree with immersion blender until smooth.  If you don't have immersion blender use a blender but be careful because it will be very hot!!! 
5. Add half and half and mix well.  Taste to see if seasoning is okay, adjust to taste.
6. Serve immediately.  (If you need to warm don't let soup boil.)
     
Recommendations:  Serve with garlic bread or simply by itself! Enjoy!
Recipe & image submitted by Afroza Haque