Papaya Salad
Another great salad recipe concocted by my mother in law and a family favorite. 
I promise you won't be disappointed!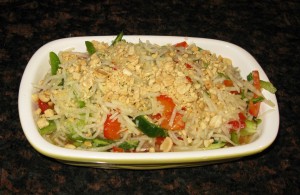 Click image to enlarge
Ingredients:
1 fresh green papaya (not ripe)
1/2 small red onion
2 tbs lemon juice (or to taste)
1 fresh lemon
1/4 cup peanuts (optional)
Salt & Sugar (to taste)
A handful of fresh coriander leaves
2/3 green chilies (optional)
How to:
1. Peel the papaya and remove all seeds
2. Shred the papaya into fairly thin slices using a food processor
3. In a bowl, add the papaya along with 1/4 diced red onion and a handful of fresh chopped coriander leaves. Mix well using a spoon.
4. In a food processor, mix together the juice of 1 fresh lemon, 2 tbs of lemon juice, salt and sugar to taste. Try with 1/2 tsp salt and 1-2 level tsp of sugar. Test for taste.
5. Pour the papaya salad into a serving dish and pour the blended mixture over the top. If you wish to add chilies to the salad to give it a bit of a kick, finely slice them and sprinkle over the top of the dish.
6. Sprinkle the remaining 1/4 of the red onion which you diced earlier over the top to add further color.
7. Just before serving, sprinkle a handful of crushed peanuts over the salad along with some fresh coriander. (If you have a peanut allergy, just omit this part).
Enjoy!!
Recipe submitted by Saqui S. Huq
Image by Sabina Huq