Mexican Inspired Quinoa Salad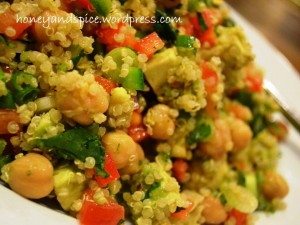 Ingredients (Serves 6)
150 g (¾ c) red/white quinoa, cooked and cooled
2 large green peppers, de-stalked, seeded, diced
2 ripe medium avocados, skinned, stoned, diced
2 medium vine-ripened tomatoes, diced
1 x 400g (14 oz) tin black beans, rinsed, drained
2 spring (green) onions, finely sliced
1 T olive oil
1 lime, juice only
1 garlic cloves, finely chopped
Dried oregano, to taste
Ground cumin, to taste
Dried/fresh jalapeno peppers, finely chopped, to taste
Fresh coriander (cilantro) leaves, chopped to taste
Salt and pepper to taste
How to:
1. Soak 3/4 cup of quinoa for 15-20 mins. Drain well.
2. Place the quinoa, peppers, avocados, tomatoes, beans, spring (green) onions into a very large bowl.
3. In a small bowl, whisk together the dressing ingredients – olive oil, lime juice, garlic, oregano, cumin, jalapeno, coriander (cilantro) and season to taste.
4. Gently toss the salad with the dressing, adjust the seasoning if required and serve, enjoy!
Recipe & image submitted by Linda Lai