Creamy Carrot & Fennel Soup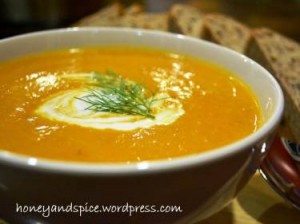 Ingredients:
1 teaspoon oil
1 small red onion, chopped
375 g (13.2 oz, about 1 large bulb) fennel, including stalks, roughly chopped, reserve a few fronds for garnish, if desired
600 g (21 oz, about 10 medium) carrots, skin kept on, roughly chopped
1 teaspoon whole fennel seeds, toasted, crushed and divided into two portions
1 litre (4 c and 2 ½ tablespoons) just boiled water
1 teaspoon Better than Bouillon* vegetable stock paste
200 ml (¾ c and 4 teaspoons) coconut milk, reserve 4 teaspoons to garnish, if desired
250 ml (1 c and 2 teaspoons) water, or as needed
salt and pepper to taste
* Better than bouillon is a concentrated paste, which you add water to, to make a stock. If this is not available, use stock cubes or ready-made unsalted stock instead of water in step 3.
How to:
1. Heat oil in a large saucepan over medium heat until hot.
2. Add onion and sauté until lightly browned and translucent, about 3-5 minutes.
3. Stir in fennel, carrots, half of the crushed fennel seeds, stock paste and 1 litre (4 c and 2 ½ tablespoons) water.
4. Bring to the boil, then cover and simmer for 20-25 minutes or until all the vegetables are very tender.
5. Puree the mixture in a liquidizer and return to the saucepan. Add coconut milk and remaining water to thin down the soup to the desired consistency. Season with remaining crushed fennel seeds, salt and pepper.
6. Serve with a swirl of coconut milk and garnish with fennel fronds, if desired. Enjoy!
Recipe and image submitted by Linda Lai (click on her name to read her blog).