Chicken (or Tofu) Soup with Napa Cabbage & Shitake Mushrooms
You're probably thinking this soup has no business being on Deshigrub…You're probably right, but since this is 100% my own concoction, I wanted to share it with you guys. Not only is this the best soup I've ever made, it's the best soup I've ever had the pleasure of tasting! And my husband agrees too! So here it is…delicious, healthy and extremely simple to make! I've also made the soup by substituting the chicken for Tofu – the result was just as amazing!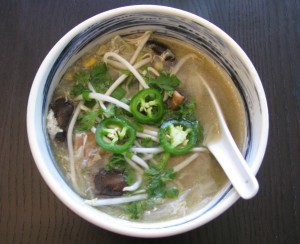 Click image to enlarge
Ingredients (Serves 10)
½ or 1 Napa Cabbage (depending on size)
1 whole chicken medium cut without skin or 1/2 block of hard tofu cut into 1 inch cubes.
(If you prefer to use chicken breast, go ahead! It tastes just as good. Just cut into thin pieces).
2 tsp salt, 1 level tsp of black pepper
2 egg whites
½ red onion
1 lb of shitake mushrooms
1 small can sweetcorn
Garnish:
A handful of beansprouts
3 stems of Spring onions/scallions (roughly chopped)
3-4 chillies or 1 whole habanero or jalapeno pepper (sliced)
Handful of chopped coriander leaves
Thinly sliced fresh ginger (as desired)
How to: (takes an hour to 1 and 1/2 hrs)
1. Boil water in a large pan and let simmer once boiled.
2. Add the chicken once cleaned and all fat has been removed. Allow to simmer on low to medium heat. (If using just chicken breast, cut into bite-size pieces). If using Tofu – see point 7 below.
3. Add 2 level tsps of salt (add more or less according to taste).
4. Add ½ red onion, sliced thinly.
5. 45 mins later, add the napa cabbage chopped well and allow to cook on a low heat.
6. Add canned sweetcorn, washed and drained well. Allow to simmer on low to medium heat.
7. Wash the shitake mushrooms well, and add to the soup. Now add the Tofu. Allow to simmer on low to medium heat until all ingredients are more or less soft. Whilst the soup is boiling prepare the egg whites.
8. Separate the whites from the yolks (using a back and forth motion in the egg shells) and whisk up the egg whites. Discard the yolks (or save them for an omelette later).
9. Mix 1 tsp of cornflour with a little bit of cold water to form a paste. If too thick, add a little more water. Mix well and then add into the soup stirring all the while.
10. Next, add the egg whites to the soup whilst continuously stirring. If you don't eat eggs, don't add them. Simmer for a further 10 mins on medium heat and then remove from heat.
11. Prepare the garnish so guests can add it to their soup as desired.
Additional ideas: Add a handful of egg noodles to the soup if desired.
Recipe & image by Sabina Huq