Chicken Wing Bhuna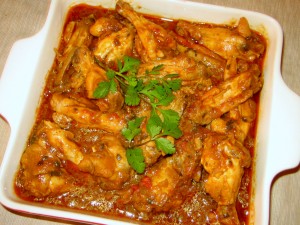 Click image to enlarge
Ingredients:
2 lbs. chicken wings skinned and cut into two at joint
1  medium onion, finely chopped
3 tbsp. oil (I use canola)
1 whole bay leaf, 3 green cardamoms, 1 whole cinnamon, 1 whole star anise
1 tsp. minced garlic, 1 tsp. minced ginger
1 whole tomato or 8 oz. crushed tomatoes, 1 tsp. tomato paste
2-5 green chilies,  (depends on how hot you want it), handful of chopped fresh coriander
1/2 tsp each of garam masala, coriander, cumin, turmeric, and chili powder, 1/4 tsp salt
2/3 cup water warm
 
How to:
1. In a heavy based pan heat up oil and add bay leaf, green cardamoms, cinnamon and star anise.  Fry for about 30 seconds until cardamoms puff up. (Be careful not to burn the spices)!
2. Add onions and cook on medium heat until soft and browned (approx. 15 mins).
3. Add minced garlic and ginger and fry for about 2 mins stirring all the while so it doesn't stick and burn.
4. Add tomato and tomato paste and fry for about 5 mins.
5. Add spices, salt and chopped fresh coriander and fry for about 5 mins until oil separates from mix.  If masala starts to stick to pan add a little warm water.
6. Once masala is done add chicken and stir until all the chicken is coated.  Add warm water, mix, cover then simmer on medium heat for about 30 mins or until chicken is done.
Recommendations:  Serve with white or brown rice.
Recipe & image submitted by Afroza Haque