Chicken Pizza-Tortilla
Ok, so here's something I made up on the fly using left over chicken curry. The result? A rather tasty pizza/tortilla if there even is such a thing!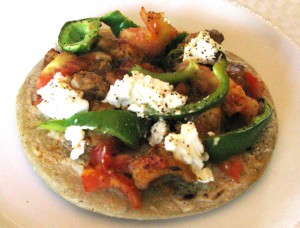 Click image to enlarge
Ingredients: (Serves 2)
Whatever left over Chicken Curry you have left
2 one inch corn tortillas
1 tomato
1/2 green pepper
Goats yogurt (to taste)
Salt and pepper to taste
How to:
1. Using fresh corn tortillas, place cut chicken pieces all over the base of the "pizza".
2. Add green pepper and tomato and some goats cheese (all according to taste).
3. Add salt and pepper to taste.
4. Place in oven at 400 degrees c for 15-20 minutes.
Recommendations:  Try it with a side salad of your choice.
Recipe & image by Sabina Huq