Chicken & Spinach Curry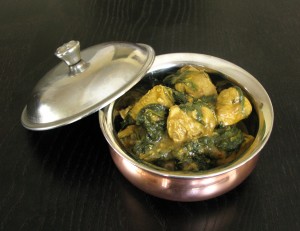 Click image to enlarge
Ingredients:  (serves 4)
1 whole chicken, no skin, cut into medium sized pieces or 2 lbs of chicken breast
1 bunch of fresh spinach
2 onions
4 gloves of garlic
Cooking oil
Spices: 1 tsp turmeric, 1 tsp chilli powder, 1 heaped tsp cumin, 1 heaped tsp coriander, and 1 tsp salt
How to:
1. Wash and clean the chicken and if using breast pieces only, cut into cubes. If using the whole chicken, make sure it is cut into medium sized pieces. Remove all skin.
2. Wash and drain the spinach.
3. Dice the onion and garlic finely and keep separate.
4. In a pan, heat up 2-3 tablespoons of oil. Add the garlic and fry until almost brown. Be careful not to burn them.
5. Add the diced onion and fry until brown.
6. Add all spices as above including the salt and fry for 2 minutes. Add 1 cup of water to make a smooth paste. (If you have a blender, fry just one onion and blend the other. You will still need to add some water, but not as much).
7. Once you have enough massala, add the chicken. Put the heat on high and allow to cook until the chicken browns all over (10-15 minutes).  Add water as necessary if you start to see the massala drying up.
8. When the chicken is almost cooked, stir in the spinach little by little and cover the pan with a lid. Let simmer on medium heat for 10 minutes before removing from the heat.
Recommendations: Serve with hot rice of your choice or any bread of your choice such as roti, chapatti, or naan bread. For a healthier option, serve with wholewheat pita bread or wholewheat chapatti.
Recipe & image by Sabina Huq