Chicken Bhuna w/Mushrooms & Peppers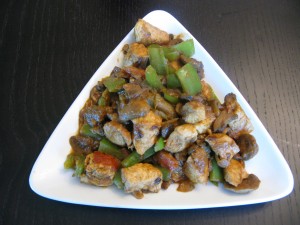 Click image to enlarge 
Try this very impressive dry curry dish with plain boiled rice or chapatti/wholemeal pita and a side salad.
Ingredients: Serves 4
2 large chicken breasts (diced into 1 inch pieces)
4 large onions (slice 3 finely and 1 into rings)
4 cloves garlic, crushed
1.5 inch piece fresh root ginger, peeled and crushed/grated
Olive Mist spray oil
1 tomato, diced including skins
1 small pkt cherry tomatoes
small pkt button mushrooms
half a green pepper and half yellow or red pepper,  cut into 1 inch cubes
Spices: salt to season, 1/2 tsp turmeric, 1/2 to 1 tsp chilli powder, 1 tsp coriander powder, 1/2 tsp cumin powder
2 large handfuls fresh coriander leaves and stem, finely chopped.
(optional) 2 green chillies, including seeds, sliced lengthways, excluding stalk.
Prepare: Boiling water from kettle
How to:
1. Heat a non-stick pan up until it's really hot and add about 8-10 sprays of the oil and the finely sliced onion.  Cook on high heat and add salt to help soften the onions, adding the garlic and ginger. Turn down the heat to the lowest setting, and cover. Onions should be softened and browned. Add enough boiling water to soften the onions further, cover and cook for about 10 minutes. Use a potato masher to crush the onions into a paste which will form the sauce base for the curry. (this is the only way to make a virtually fat free smooth curry sauce with no lashings of oil)
2. When all the water has evaporated from the onion paste, add all the spices and cook on high heat for 5 minutes to make sure the spices are cooked through and not still raw and powdery. Turn down the heat again and cover for a further 5 minutes.
3. Stir in the diced tomato, cover and cook on low heat for 10 minutes.
4. Stir in the chicken breast chunks, making sure they are coated evenly with the onion and spices, cook on high for 5 minutes while continuously stirring. Then reduce the heat, cover and cook for a further 10 minutes. Stir in half the finely chopped fresh coriander.
5. Add the mushroom and peppers, cover and cook for a further 5 minutes. By now some moisture should be released from the chicken and vegetables to form part of the sauce. If you would like it slightly more saucy, add half to one cup of hot water from the kettle and cook on a medium heat till the sauce thickens.
6. Switch the heat off, stir in the cherry tomatoes and half the remaining coriander.
7. To prepare the garnish, heat a separate frying pan on high heat, add a few sprays of oil and fry the onion rings and optional green chillies, adding a dusting of turmeric powder and sprinkle of salt. Reduce the heat and cover until softened.
8. Stir half the onion rings into the curry and decorate the other half on top, finish with sprinkling the remaining coriander.
Recommendations:  Try to use a wok or balti dish to cook this in, or any 'straight to table' pan. If you don't have any of these, just pour the curry so it slides into a serving dish so as not to disturb the layers.
Enjoy!
Recipe Submitted by Shakila Ahmed. Image by Sabina Huq