Baked Chicken with Za'atar
Having tried and tested this mouthwatering dish many a time at my favourite Mediterranean restaurant in Venice Beach, Los Angeles, I tried to replicate the flavours from memory and of course with the help of my taste buds.  After successfully making this dish no less than a dozen times, I finally remembered to take a pic and post it on this site.  So here goes: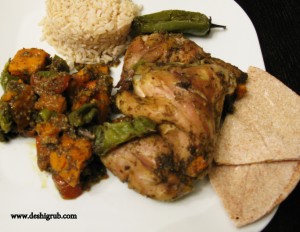 Click image to enlarge
Ingredients: (Serves 4-6)
6 chicken breasts, legs or whole thighs
5 tablespoons of za'atar (Jordanian Zaatar is the tastiest kind and can be found in all Middle Eastern grocery stores)
1/2 tsp salt or to taste
1 russet potato (sliced thinly) or 1 yam cut into cubes
3 ripe tomatoes
2 large green bell peppers
3-4 cloves of garlic (left whole)
3 tablespoons of olive oil
Handful of fresh chopped mint leaves
Optional: 3 jalapeno peppers
1/2 cup water
You will need a large baking tray (deep enough to hold all ingredients) and some aluminium foil
How to:
1. Turn oven on at 325 degrees c. and time it for 1 hr 45 mins (turning over chicken half way through). Note: if using breast pieces, this dish should only take an hour.
2. Wash and drain the chicken well and remove all skin.
3. Place chicken in a baking tray already covered in foil (it's so much easier to clean when using foil)
4. Cut yams/potatoes, tomatoes, and bell peppers into 1 inch cubes. If using Russet potatoes instead of yams, slice potato thinly.
5. Add jalapeno peppers and garlic cloves (leave whole)
6. In a bowl or small measuring jug, mix the zaatar, olive oil and 1/2 cup water using a spoon. Pour over the chicken and vegetables and ensure all the chicken is covered.
7. Place in oven – uncovered – and allow to cook for 1 hour. After an hour, turn over chicken gently and add freshly chopped mint leaves. Place back in oven and allow to cook until chicken is thoroughly cooked and browned all over.
Recommendations: Serve with whole wheat pita bread, brown or white rice.
Recipe & image by Sabina Huq