Tilapia Bhuna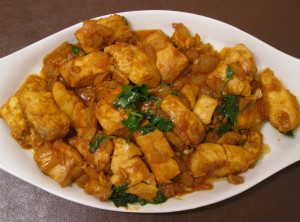 Click image to enlarge
Ingredients: (Serves 4-6)
1 packet of fresh or frozen Tilapia fillets
2 medium sized onions
Cooking oil
Fresh coriander leaves
Spices: 1/2 tsp Turmeric, 1/2 tsp curry powder, 1 level tsp each of chilli powder, cumin powder and coriander powder. Salt to taste.
How to:
1.  Wash and clean the tilapia fillets and pat dry. Cut in bitesize pieces (about 2 inch pieces to avoid them breaking up whilst cooking).
2.  Dice the onions finely
3.  In 2 tablespoons of oil, fry the onion until it starts to brown. Add all spices and salt as above.
4.  Stir for a minute or two to allow the spices to mix, then add a cup of water to make the massala sauce. As the sauce starts to dry up, add half a cup of water.
Note: You will need to gauge how much water to add depending on how much massala you want.  Basically, this dish should be dry-ish but with enough massala so as not to dry out the fish when ready to serve.  In short, it shouldn't be watery.
5. Once the massala is ready, add the fish. Let cook for 10-12 minutes turning the pieces over periodically and very carefully. If your massala starts to dry out a little, add a little water. (Use warm water so you don't slow down the cooking process).
6. Once the fish is cooked, remove from heat and sprinkle some fresh chopped coriander/cilantro/danya over the top.
Recommendations:  Enjoy with coconut rice, or white or brown basmati rice.
Recipe & image by Sabina Huq