Shrimp & Tomato Bhuna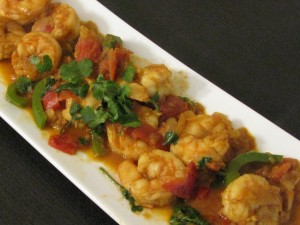 Click on image to enlarge
Ingredients: (Serves 4)
1 packet large shrimp
2 medium sized onions
2 ripe tomatoes
1/2 green pepper
6 crushed garlic cloves and 1 inch piece of ginger (grated). Alternatively: 1 heaped tsp garlic and ginger paste as found in South Asian stores.
Spices:  1 level tsp chilli powder, 1 heaped tsp cumin powder, 1 heaped tsp coriander powder, 1/2 tsp turmeric, and 1 tsp salt.
Fresh chopped coriander leaves
Cooking Oil
How to:
1. Prepare the shrimp by removing the tails and then wash thoroughly.
2. Dice the onions finely and fry in 2 tablespoons of cooking oil (of your choice) until the onions are nice and brown.
3. Add the blended garlic and ginger and mix well. Fry for a further 2-3 minutes before adding the spices as indicated above. Stir well then add 1 cup of warm/hot water and blend the spices really well into the onions forming a smooth paste. Continue to add a little water and cook until the onions are soft and you've got the smooth paste required to make the perfect bhuna.
4. Slice each tomato into 8 slices and add to the massala (sauce). Allow to cook for 10 minutes until the tomatoes have pretty much blended into the sauce.
5. Add the shrimp and cook on high heat until the shrimp is almost cooked (about 7-10 mins). Add water as necessary if you notice the sauce has started to dry up too much.
6. Lower the heat to a medium heat and add 1/2 sliced green pepper removing all seeds and white areas from inside. Add to the shrimp and cook for a further 7-10 minutes.
7. Remove from heat and add a handful of fresh chopped coriander. Stir in.
8. When serving, you can add a touch more fresh coriander for decoration.
Recommendations: Serve with any type of rice or bread of your choice.
Recipe & image by Sabina Huq