Shrimp & Spinach Curry (Saag Prawn)
This low fat, low calorie dish is not only quick to make but is very high in vitamins.  Shrimp is low in saturated fat and is a great alternative to meat proteins.  Together, they make the perfect combination for a nutrient-dense dish that takes less than 25 minutes to make!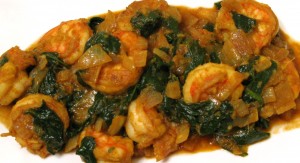 Click image to enlarge
Ingredients: 
1 bag of shrimp
1 bunch of fresh spinach
1 onion
4 gloves of garlic
Cooking oil
Spices: 1/2 tsp turmeric, 1/2 chilli powder, 1 level tsp cumin, 1 level tsp coriander. 1/2 tsp salt
How to:
1. Wash, clean and devein the shrimp if you are using fresh shrimp. If using frozen, you just need to soak them in lukewarm water for about 15 mins.
2. Wash and drain the spinach.
3. Dice the onion and garlic finely and keep separate.
4. In a pan, heat up about 1 and 1/2 tablespoons of oil. Add the garlic and fry until they almost turn brown. Be careful not to burn them.
5. Add the diced onion and fry until they turn brown.
6. Add all spices as above including the salt and fry for 1 minute. Add 1/2 cup water to make a paste.
7. Add the shrimp and allow the massala to blend into the shrimp. Cook for 4-5 minutes until shrimp is pretty much cooked.
8. Stir in the spinach and allow to cook. Let simmer on medium/high heat for 10 minutes. Ensure the sauce has dried up before removing from heat.
Recommendations: Serve with hot rice of your choice or any bread of your choice such as roti, chapatti, or naan bread. Also goes really well with wholewheat pita bread!
Recipe & image by Sabina Huq