Shrimp & Potatoes with Curry Leaf
The Curry leaf is an aromatic leaf often used in Indian Cuisine; a native of Tropical Asia, southern India and Sri Lanka, no dish is complete without these leaves. My first experience of the curry leaf was actually in a Malaysian Seafood dish in New York City but I have also seen it widely used in poultry and meat dishes along with soups.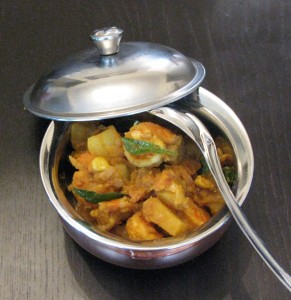 Click image to enlarge
Ingredients:
2 lbs of fresh or frozen shrimp
2 medium sized onions
1 large russet potato
3 garlic cloves
2 green chillies
2 tablespoons of oil
8-10 curry leaves (found in most Asian and/or Indian stores).
Spices: 1 heaped tsp of Coriander powder, 1/2 tsp of Turmeric, 1 tsp of chilli powder (or to taste), 1 heaped tsp of Cumin, and 1 tsp salt.
How to:
1. If you are using shrimp that have the shell on, prepare them by removing the shell, the head and the tail. Wash well and drain.
2. Peel the potato, cut into small cubes, wash and drain well.
3. Keep some hot water from the kettle ready for use.
4. Dice the onion and the garlic and keep aside.
5. In a non stick pan, heat 2 tablespoons of oil and add the onion. Fry until they start to brown and add the garlic. Add the green chillies. Fry for a further minute.
6. Add 1/2 cup of hot water and cook until the onions start to soften. When the onion is soft and the water has dried up, add all spices as indicated above and stir well.
7. Add more water to make a thick massala sauce.
8. Once the sauce is the consistency you want it, add the cubed potatoes. Allow to simmer on medium to low heat until 90% cooked. Cover pan.
9. Add the prawns and cook for 4-5 minutes (without lid) until the sauce starts to dry up a little and the prawns change colour. Add more water as needed to ensure you always have a sauce.
10. Add the curry leaves and allow to cook for a further 2 mins on medium to high heat.
11. Remove from heat when done.
Recommendations:  Best eaten with plain white basmati rice, coconut rice or brown rice.
Recipe & image by Sabina Huq