Shrimp & Okra Bhuna
Ok, so here's one I just made up on the fly. It turned out surprisingly tasty! Give it a shot if you like okra (dherosh).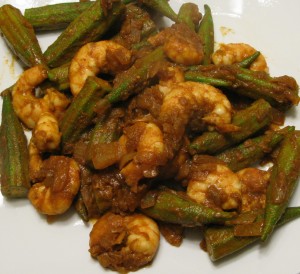 Click on image to enlarge
Ingredients:  (serves 3-4)
1 Onion
1 packet of frozen shrimp/prawns
1 tsp garlic paste or 5 diced garlic cloves
About 15-20 pieces of okra
Spices: 1 heaped tsp salt, 1 heaped tsp cumin, 1 heaped tsp coriander powder, 1/2 tsp turmeric, 1 heaped tsp chilli powder.
2 tablespoons olive oil
How to:
1. Soak 1 packet of frozen shrimp for 20 minutes or so before use.
2. Cut just the tops off the okra and wash carefully.
3. Dice up one onion really finely and fry in 2 tablespoons of olive oil unti nice and brown (about 7 minutes).
4. While the onions are browning, peel the shrimp (if you bought shelled shrimp), wash and drain.
5. Add 1 tsp of garlic paste or 5 diced garlic cloves to the onion. Fry for 2 mins and then lower the heat.
6. Add all spices and salt as indicated above and stir well for one minute. Add 1 cup of water and let simmer so the mixture turns into a nice thick sauce/massala.
7. Add the shrimp and mix really well into the massala. Cook for 5-6 minutes before adding the okra.
8. Add 1 cup of water and let the sauce dry up slightly. Now add the okra and fry for 2 minutes.
9. Put the lid on, lower the heat and allow to simmer for about 12 minutes or until the okra is cooked through. What you don't want is for the okra to get all mushy. Remove from heat when done.
Enjoy!
Recommendations:  Serve with hot rice of your choice. Coconut, brown and white rice all accompany this dish really well.
Recipe & image by Sabina Huq