Sardines in Tomato Sauce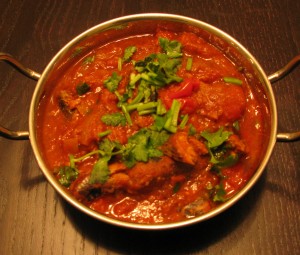 Serves 2-3 (takes 15-20 minutes to make)!
Believe it or not, sardines are a nutritional powerhouse! They are loaded with magnesium, calcium, iron, phospherous, potassium, zinc, copper, and manganese.  One can/tin actually provides 150% of the daily value of Vitamin B12. If you're still not convinced, try this dish, it may surprise you! 
Ingredients:  1/2 white onion,  1 fresh ripe tomato, 1 can of sardines in tomato sauce (found in all grocery stores), a sprinkle of fresh coriander, and one tablespoon of olive oil.
Spices needed:  1/2 tsp turmeric, 1/2 tsp coriander powder, 1/2 tsp paprika, 1/2 tsp cumin powder, 1/2 tsp salt. (Optional: 1/2 tsp chilli powder).
How to:
1. Firstly dice up 1/2 large onion. In a pan, heat up one tablespoon of olive oil and fry the onions until most of them turn golden brown. Make sure you have the heat set on high for this.
2. Once the onions are golden brown, lower the heat and add all spices as indicated above. Fry for 1 minute and then add 1 mug of hot water. (You always want to use hot water when making a massala (sauce) so the process doesn't slow down. This is without a doubt the most important part of making a curry since it determines how your curry will turn out).
3. Add one ripe chopped tomato and cook until it softens. If you notice the sauce start to dry up, add a tiny bit more hot water (maybe 1/2 mug or so).
4.  When you have enough sauce and the consistency is smooth like a paste (and not watery with onion pieces floating around in it), add the canned sardines. Stir once taking care not to break the fish and turn the heat down to a simmer.
5. Simmer for 7-10 minutes on low heat and then remove from heat.
6. When serving, sprinkle some fresh chopped coriander over the top.
Recommendations: Enjoy with brown or white basmati rice.
Recipe & image by Sabina Huq