Mukhi (Eddo) & Fish Curry
This dish is typically made using Bangla Fish such as Roe, Hilsha, Gagot, Gual, etc., but can also be made using Cod, Haddock or Trout. Mukhi or Eddo (as it is known in the West) is a root vegetable of slippery consistency which can be found in most Bangladeshi grocery stores. Hawaiians use it too as the main ingredient for 'Poi' a traditional mashed taro dish.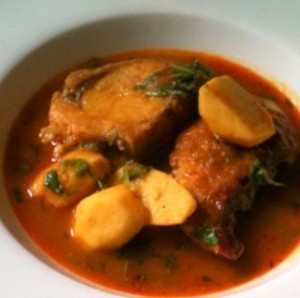 Click image to enlarge
Ingredients:
6-8 pieces of your choice of Bangla (or other) fish
5-6 cloves of garlic, 2 medium sized onions
2 tbsps of oil
Handfulf of fresh coriander leaves, 3 fresh green chillies
Spices:  1 level tsp ground tumeric, 1.5 tsp ground cumin, 1.5 tsp  ground coriander, 1/2 tsp chilli powder, 1.5 tsp paprika, 1 tsp salt (or to taste)
1 fresh or frozen Mukhi  (Eddo) cut into 2-3 inch pieces
How to:
1. Heat 2 tbsps of oil in a non-stick pan
2. Add crushed garlic and fry until it almost starts to turn brown.
3. Add chopped onion and fry until brown
4. Add salt
5. Once the onions turn soft and mushy add the remainder of the spices as above and cook for 20 mins
6. Prepare the Mukhi by peeling, washing and cutting it into 2-3 inch pieces and add Mukhi to pan. Stir well.  Once the veg is cooked through (check using a fork) add the fish and
cook for 10 mins.
7. Add warm to hot water from the kettle and simmer for a further 15 mins. (A pint of water should be enough).
8. Add fresh coriander and fresh green chillies when done and remove from heat.
Note: If cooking with Bangla fish you might need to allow a little more prep time to remove the scales and clean the fish thoroughly.
Tip:  For a better taste, marinate the fish in 1/2 tsp of turmeric, cumin and coriander powder and pan-fry the fish before adding the Mukhi.
Recommendations:  Serve with hot rice of your choice. Tomato Khatta complements this dish to finish a meal.