Lobster Bhuna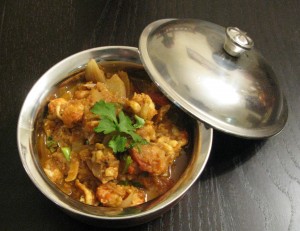 Click on image to enlarge
For this dish, I used langoustine tails from Trader Joes (a grocery store found only in the US). Langoustines are North Atlantic lobsters, usually harvested in Scotland and Norway. They are about the size of medium sized shrimp in the shape of little pink curls and they have the consistency of lobster or crab. Unfortunately, these particular langoustines from Trader Joes have little to no flavour, so I figured what better way to make them than to serve them up as a spicy bhuna dish.
Ingredients:
1 and ½ medium sized onions
1 plum tomato
4 cloves of garlic
A handful of fresh coriander leaves
Spices: 1 tsp curry powder, 1 tsp paprika, ½ tsp (or more) chilli powder, 1 heaped tsp cumin, 1 heaped tsp coriander powder, 1 tsp salt
2 tablespoons of Cooking oil
1 tsp Patak's Original Mild or Hot Curry Paste
(Optional) ½ scotch bonnet pepper (naga morris)
How to:
1. Thaw one packet of frozen langoustine tails in lukewarm water
2. Cut up one onion finely and fry in 2 tablespoons of oil until golden brown
3.  Cut up ½ of another onion and blend in a blender along with 4 cloves of garlic. Add to the browned onion and fry for 2 minutes.
4.  Add all spices as indicated above along with 1 tsp of salt (or more if needed) and stir well.
5.  Add one plum tomato, cut lengthways and fry for about 3 minutes before adding ½ cup of hot water (preferably from the kettle). Continue to stir until you have a nice thick sauce. The tails won't take long to cook so you want to make sure you have the sauce just the way it should be before adding in the meat.
6.  Add 1 tsp Patak's Original Mild or Hot Curry Paste and mix well for about a minute. This adds flavour and colour to the sauce.
7.  Add the langoustine tails and allow to mix in with the sauce by stirring well for a minute or two.
8.  Put the lid on and let simmer for 5-6 minutes until the tails are fully cooked
9.  Optional – Add ½ chopped scotch bonnet pepper (aka naga morris). Skip this is you can't take the heat!
10.  Remove from heat and stir in a handful of fresh chopped coriander
 Enjoy!
Recommendations:  Serve with plain white basmati rice, brown rice or coconut rice.  
Recipe & image by Sabina Huq