Keski Mach
Keski fish is a tiny Bangladeshi fish resembling Silverfish but not quite. It is mostly cooked dry-style as opposed to a curry dish. Definately worth trying as this dish is very tasty!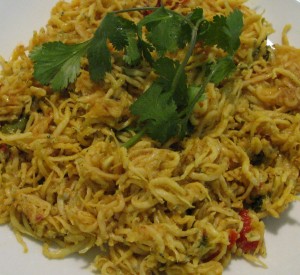 Ingredients:
1 packet of frozen Keski fish (found in most Bangladeshi stores)
1/2 an onion
3 cloves garlic
2 tomatoes
Handful of fresh coriander leaves
5 green chillies
2 tbs cooking oil
Spices: 3/4 tsp turmeric, 1/2 tsp chilli powder, 1/2 tsp cumin, 3/4 tsp coriander powder, 1/2 tsp salt or to taste, and a sprinkling of black pepper.
How to:
1. Defrost the packet of fish taking care not to make it mushy. Place fish in colander, wash and drain well until completely dry.
2. Heat oil in a non-stick pan and add finely diced onion. Fry until soft and almost brown.
3. Add the spices as indicated above and cook for 1 minute.
4. Add 1/2 cup of water and form a paste. Stir and fry for 2 minutes and then add finely chopped tomatoes. Stir-fry for a further 2-3 minutes.
5. Add the fish, stir-fry for 1-2 minutes until the water evaporates.
6. Cover with lid and allow to cook on low heat for 15 minutes.  By now all the water should have evaporated.
7. 5 minutes before removing from heat, add slit green chillies and fresh coriander leaves.
Recommendations: Serve with hot rice of your choice.
Recipe submitted by Tasmeem. Image by Sabina Huq