Fish & Tomato Bhuna
For this dish, I recommend using boneless fillets of Cod or Haddock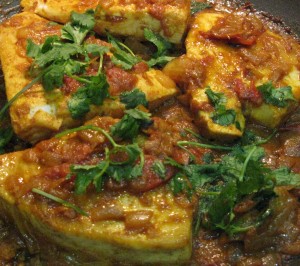 Ingredients:
4-6 fillets of cod
2 medium sized onions
3 tomatoes
3-4 garlic cloves
Fresh coriander leaves
Spices: 1 level tsp turmeric, 1level tsp (or less) of chilli powder, 1 heaped tsp cumin, 1 heaped tsp coriander. 1 level tsp salt.
Oil of your choice
How to:
1. Clean the fish and cut the fillets in half so that they are in squares. Wash and drain and pat dry with a paper towel.
2. Dice both the garlic and the onion finely and fry the garlic first in about 2-3 tablespoons of oil. When they start to brown, add the onions and again, fry until brown.
3. Add all spices as above along with the salt. Fry for 2-3 minutes and then add half a cup of water to blend the massala into a smooth paste.
4. Chop up the tomatoes and add into the massala. Cook for 5-6 minutes on medium heat (adding water as necessary) until the tomatoes have more or less dissolved.
5. Once you have made the sauce (ie, the dry massala which we call bhuna), add the fish pieces. Turn the heat up and let the fish brown. Be careful not to burn the massala.
6. Once the fish is brown, you can add a touch more water to ensure there is enough massala. Turn the heat down low and simmer for 5-6 minutes until the fish is fully cooked in the massala.
7. Sprinkle a handful of fresh coriander leaves on top and remove from heat.
Recommendations: This dish takes about 25 minutes to make. If you are using frozen fish, you will need to add on 30 minutes defrost time. (To defrost, soak fish for 30 minutes in lukewarm-cold water). Best served with white or brown basmati rice, sticky rice, or coconut rice.
Recipe & image by Sabina Huq