Fillet Fish Bhuna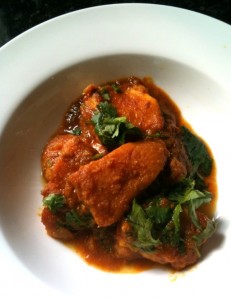 Click image to enlarge
Ingredients:
4 fish fillets
3 tbsp oil
1 level tsp salt (or to taste)
2 medium sized onions
4 fresh green chillies
4 cloves garlic (finely crushed)
Spices: 1 level tsp Turmeric, 1.5 tsp Coriander powder, 1.5 tsp Cumin powder, 1/2 level tsp Chilli powder, 1.5 tsp Paprika, 1 level tsp of salt
Optional: 1 ripe tomato
How to:
1. Heat 3 tablespoons of oil in a non-stick pan
2. Add crushed garlic cloves and chopped onions and fry for 2-3 minutes.
3. Add the green chillies, sliced through the middle.
4. Add salt (1 level tsp or to taste)
5. Add a little water (1/2 cup) and simmer until onions are soft and mushy
6. Add all spices as indicated above and allow the spices to blend well (Optional – add a chopped tomato for extra taste and color). Cook for about 12-15 minutes adding more water as necessary if the sauce starts to dry up too much.
7. Cut each fillet of fish into about four pieces and add to pan
8. Cover and cook for about 20 mins
9. Garnish with fresh coriander and one or two fresh green chillies and remove from heat.
Recommendations:  Serve with hot rice of your choice