Spiced Lamb Chops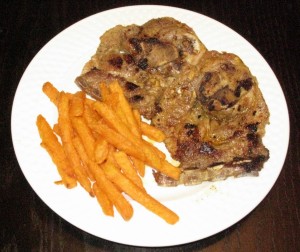 Ingredients: (Serves 3-4)
8 lamb chops or 1 lb
1 tsp finely grated ginger (or 2 inch piece)
1 tsp finely grated garlic (2 cloves)
Spices:  3/4 tsp salt, 1/2 tsp paprika, 1/2 tsp chilli powder, 1/4 tsp turmeric, 1/2 tsp cumin seeds (finely ground), 1/2 tsp coriander seeds (finely ground)
1-2 tablespoons canola oil
How to:
1. Wash the lamb chops well and pat dry with a paper towel.
2. In a bowl, rub the oil and all spices together as indicated above. Add the meat and rub the mixture into the chops really well.
3. Cover with a plate and let marinate in fridge for 30 minutes. (If you're in a hurry, just let it sit for 10 minutes).
4. In a non stick-pan or skillet, cook the lamb chops on medium to high heat for 6-10 minutes turning over the meat frequently. You may want to rub a little oil into the pan/skillet before grilling.
Recommendations: Enjoy with sweet potato fries or a hearty salad!
Recipe & image by Sabina Huq