Spaghetti Bolognaise
This dish is spaghetti bolognaise with a "Deshi" twist…ie, using the traditional spices commonly used in pretty much all of our dishes (ie. South Asian cuisine). There are several terms used for this dish…for instance, in the US, it is generally known as Spaghetti & Meatballs, but in the UK, we call this Spaghetti Bolognaise or just "Spag Bol" for short. Of course, the Brits are not responsible for this dish – the Italians are, and in Italy, it's called Spaghetti alla bolognese. In short – the dish consists of a meat sauce served on a bed of spaghetti, often with a good sprinkling of grated Parmigiano cheese. It consists of ground beef, tomato, onion, spices, possibly cream and additional vegetables such as carrots, celery, or parsnip.  Although spaghetti alla bolognese is very popular outside of Italy, it never existed in Bologna.
Spaghetti Bolognaise has also become increasingly popular in Australia, Germany, Hungary, Sweden, Finland, Denmark and Norway, especially among children where the meat sauce is made from scratch. As with many dishes….it's all about the sauce.
So here's my version of the dish. A quick, easy, gluten free, dairy free version of serving up Spag Bol in 40 minutes or less. (For a vegetarian version, use Meatless Meatballs found in most grocery stores….I know Trader Joes has them)!!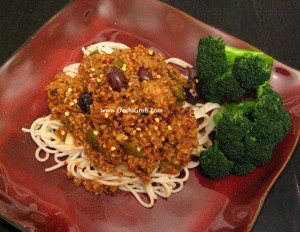 Click on image to enlarge
Ingredients:  (Serves 3-4)
1.5 lbs lean (or extra lean) ground beef (or 1 packet frozen meatless meatballs for the vegetarian version).
1 small onion (diced)
10 medium sized mushrooms
10 black olives
2 tablespoons of olive oil
1 jar of tomato/marinara sauce of your choice – I like to use Trader Joes Organic Marinara Sauce (the no salt added kind).
Spices: 3/4  tsp cumin powder,  1/2 level tsp of ground chili powder, 1/2 tsp coriander powder, 1 tsp salt, 1/2 tsp ground black pepper, 1 tsp crushed chili flakes (for garnish).
Enough spaghetti for your guests. (Use a spaghetti of your choice but I always opt for (Trader Joe's) brown rice pasta as it's gluten free, has a chewy texture and tastes rather yummy)!
Optional: Steamed Broccoli florets.
How to:
1.  Wash and drain the ground beef in a colander/strainer (with small holes) and let sit for 5 mins or so until all the water has drained out. (Some people prefer not to wash the beef, but that's your call). (If opting for the vegetarian version of this dish, use 1 packet of frozen meatless meatballs. No need to thaw).
2. Dice up one medium onion and fry in 2 tablespoons of olive until nice and brown.
3.  Add all spices as indicated above including the salt. (All but the chili flakes). Fry for 1-2 mins.
4.  Add the ground beef and fry until cooked and browned. About 10-12 minutes on high heat. Make sure you stir it periodically so the beef doesn't stick to the pan. (Now would be the time to add the meatless meatballs for the vegetarian version. The rest of the instructions remain the same).
5. Slice up the mushrooms and add to the ground beef. Fry for 5 mins on medium heat, again stirring periodically.
6. Add the jar of marinara sauce of your choice and lower the heat. Stir well and allow to simmer for 10 mins on low heat.
7.  Add the olives and continue to simmer on low heat.
8.  Now you can prepare the spaghetti and broccoli florets (if you choose to serve broccoli).
9.  Boil enough water in a pan to cover the spaghetti completely. Add a little salt and olive oil to avoid the spaghetti from sticking together. Add spaghetti when water is boiled and boil for approx. 13-15 mins.  Note: Brown rice pasta/spaghetti may take a couple of mins longer.
10. In a different saucepan, boil water. Once boiled, add the broccoli for just 2-3 mins and drain. (I like my broccoli crunchy, but again, it's just a matter of subjective taste).
11. Drain spaghetti when done. Your bolognaise should also be done by now. Stir and remove from heat.
12. When serving, sprinkle some chili flakes over the top. If you like parmesan, sprinkle on top.
And that's all there is to it! Enjoy!!
Recipe & image by Sabina Huq