Short Ribs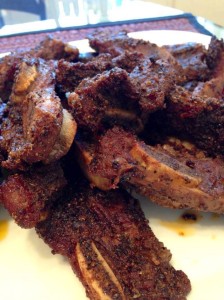 Makes ½ cup   Prep time: 10 mins
Ingredients:  
3 teaspoons coarsely ground black pepper
2 teaspoons of salt
1 heaped teaspoon brown sugar
2 level teaspoons mustard powder
1 level teaspoon garlic powder
1 teaspoon chili powder or paprika
2 teaspoons chipotle or taco seasoning mix
2 tablespoons olive oil
How to:  
1. Wash and drain the ribs well.  I like to cut the ribs across the middle since they cook best that way.
2. Place ribs in a bowl and pour rub all over them. Spread rub generously all over meat and leave to marinate 30 minutes in the refrigerator. If you have time, the longer you marinate the better. Or, if you're in a hurry, just apply it before cooking.
3. Cover baking tray with foil (I like to use a deep baking tray that I use for cooking turkey) but you can use whatever you have, including an oven-proof dish.
4. Cook for 2 hours at 350 degrees F or 180 degrees C or Gas Mark 4 turning over mid-way.
ENJOY!! Tried and tested many times!! These are mouthwateringly good!!
Tip:   For a little variation, try adding a can of crushed tomatoes to the mix before pouring over meat.
Recipe & image by Sabina Huq