Moussaka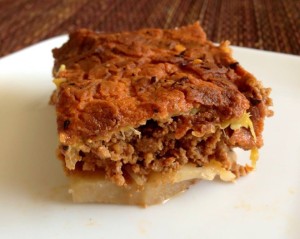 Ok folks. This is the easiest dish you'll ever make. This 'Moussaka' is my own gluten free, dairy free version and instead of using eggplant as traditionally used in Moussaka, I'm using butternut squash. Why? Cos the hubby won't eat eggplant!
This dish is my fusion version of Moussaka with a hint of Greek, Mexican, Indian and Turkish influences.
Ingredients (Serves 6).
2 russet potatoes
2lbs extra lean ground beef (you can use ground turkey if you want).
3 yellow butternut squash
1 tablespoon of brown rice flour
1 level tablespoon of dairy free butter ( I use Earth Balance brand)
1 cup almond milk (or as needed).
1/2 jar marinara sauce
Spices for making meat: 2 heaped teaspoons taco seasoning
1/2 tsp cumin
1/4 tsp chili powder
1/4 tsp coriander powder
1 tsp salt
1/2 tsp pepper
2 tablespoons olive oil
Turn oven on while preparing everything at 350 degrees Celsius. Cook time 1 hour.
How to:
1. Add olive oil to pan, pour in meat, add spices along with salt and pepper and cook until meat turns brown but still soft. Don't overcook – about 12-15 mins.
2. Peel, wash and slice potatoes and place in a large baking tray or oven proof serving dish (as in pic).
3. Pour the meat on.
4. Peel, wash and slice the butternut squash into thin slices cutting lengthways. And place on top of meat, covering meat completely.
5. Now for the bechamel/roux sauce. In a saucepan, heat butter or margarine. Once hot and melted, add the flour. Move pan away from heat and stir well.
6. Add a little milk slowly by slowly and stir well with a whisk. Keep adding milk until you have a sufficient amount of sauce and the texture is creamy.
7. Add 1/2 jar of marinara sauce and a pinch of salt and pepper to taste if you wish. Put back on the stove and allow to thicken slightly stirring well continuously. Don't allow to thicken too much as you still want that creamy texture. Pour over moussaka.
8. Pop it in the oven as recommended above.
Recommendations:  Serve with green beans or a green salad. Got to get those greens in somewhere! Enjoy!
Recipe & image by Sabina Huq