Vegetable Bharta (Mashed Vegetables)
What do you do with all those left over veggies from last week's Thanksgiving dinner?  Make a bharta of course!! Since all the vegetables are already cooked, this dish will take you around 10 minutes to prepare! (For those of you who don't know what a "bharta" is – it's a mashed dish generally using vegetables like potatoes or eggplant (aka aubergine) or certain types of fish – such as tuna, sardines, or salmon).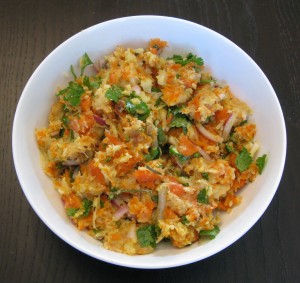 Click image to enlarge
Ingredients:
All left over veggies (I used potatoes, carrots, and parsnips)
A handful of fresh coriander/cilantro leaves
1/4 red onion (sliced thinly)
3 green chillies
1-2 level tsp of mustard oil
Salt  and pepper to taste
(Optional) 1-2 hard boiled eggs
How to:
1. Using a potato masher or a fork, mash all the veggies together.
2. Add red onion, green chillies, and fresh coriander and mix well.
3. Add  mustard oil to taste. You just need a hint of mustard oil, no need to drown the veggies in oil. Start with one tsp and depending on the quantity of your veggies, add another tsp. Mustard oil really makes this dish!
4. Add salt and pepper to taste and mix all ingredients well.
And that's all there is to it!
Optional: To add some protein to this dish, you can add 1-2 hard boiled eggs. Mix well.
Recommendations: Enjoy with brown or white basmati rice and Daal (red or yellow lentil curry).
Recipe & image by Sabina Huq