Taro & Leek Bhaji
A fusion vegetable dish of sorts which actually turned out amazing!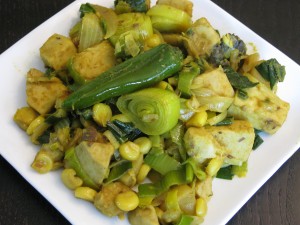 Click image to enlarge
Ingredients: (3-6)
1 packet of frozen Taro or 2 fresh Taro (cut into cubes)
3 leeks
1 onion (roughly sliced)
1/2 packet of frozen giant cusco corn
1 habanero pepper (optional)
4 cloves of garlic (whole)
 Spices: 1 level tsp of fresh cumin seeds, 1/2 tsp of salt or to taste, 1/2 tsp of turmeric, 1 level tsp coriander powder.
1 tablespoon of oil
How to: 
1. Wash all vegetables and cut into cubes as applicable.
2. Roughly slice the onion into thin strips and set aside.
3. In hot oil, fry one level tsp of fresh cumin seeds until they turn brown. Do not over fry as you will lose the flavor when burnt.
4. Add four whole cloves of garlic and allow to fry for about a minute. Add the habanero pepper if you wish.
5.  Add the onion and fry for about 2 minutes until they become brown.
6.  Add the turmeric, coriander and salt to the onion and cook for a couple of minutes on medium heat.  
7. Add the taro and corn and and stir into the spices. Fry them for 3-4 minutes until slightly brown. Meanwhile, prepare the leeks by thoroughly washing them and slicing them roughly. Add to to the mix.
8. Lower the heat and allow to cook for a further 5 minutes.  Don't stir too much as the taro may melt.
9. Put the lid on, lower the heat further and allow to cook for a further 10 minutes. Remove from heat when cooked.
Recommendations: Goes well with basmati or brown rice and is delicious with daal (lentil curry).
Recipe & image by Sabina Huq