Green Bean Bhuna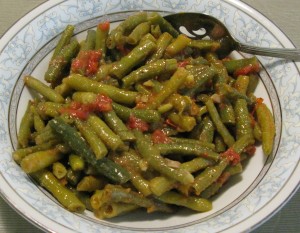 Ingredients:
1 packet of frozen green beans
1 onion
3 garlic cloves
4 green or red chillies (optional)
1 ripe tomato
1 tbs oil
Spices:  1/4 tsp turmeric, 1/4 tsp chilli powder, 1/2 tsp coriander powder, 1 level tsp salt
How to:
1.  Boil some water in a pan and add the green beans with a touch of salt. Allow to cook for 5-6 minutes only and then run under cold water and drain well. You want the green beans to be of a crunchy texture.
2.  Dice the onion finely and fry in 1 tbs of oil until brown. Add diced garlic and continue to fry.
3. Turn down the heat and add the spices as indicated above. Fry for about 2 minutes and add 1/2 cup of water to form a smooth paste.
4.  Add chopped tomato and continue to cook so that the tomato blends well into the sauce (massala).
5. Once the sauce has thickened up a little, add the green beans and stir fry for 5-6 minutes.
6. Add 4 green or red chillies (slit sideways). This is optional. If using chillies, perhaps it would be advisable to use red chillies so they can easily be picked out if need be.
7. Turn down the heat, cover with a lid and cook for a further 5 minutes.
8.  Remove from heat and serve with hot rice of your choice. Enjoy!
Recipe submitted by Tasmeem. Image by Sabina Huq