Eggplant/Aubergine Medley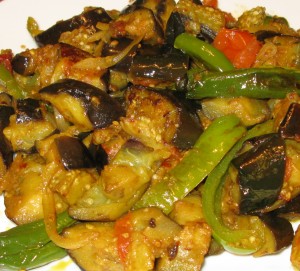 Ingredients: (Serves 6)
1 large eggplant/aubergine
1/2 medium onion
1 green pepper/capsicum
1 tomato
4 whole garlic cloves
3-4 habanero peppers or regular green chillies (left whole with stem removed)
1 tablespoon olive or other cooking oil
Spices:  1 tsp cumin, 1/4 tsp turmeric, 1/2 tsp chilli powder, 1 level tsp salt, 1/2 tsp crushed chilli peppers
How to:
1.  Wash and slice the eggplant/aubergine then cut into quarters.  Soak in a bowl for 10 minutes and wash thoroughly. Drain when done.
2. Prepare the rest of the ingredients:  Slice the tomato into about 8 slices, slice the onion into fairly thick slices and slice the green pepper into fairly thick slices.
3. In a bowl, mix together all the vegetables and all spices as indicated above. Add 4 peeled (whole) garlic cloves.
4. Add 1 tbsp of oil and mix well.
5. In a non stick skillet or pan, stir-fry the veggies for 10-15 minutes until cooked. Stir periodically so as not to make the veggies too mushy.
Recommendations:  Serve and enjoy with hot rice of your choice!
Recipe & image by Sabina Huq