Butternut Squash Bhaji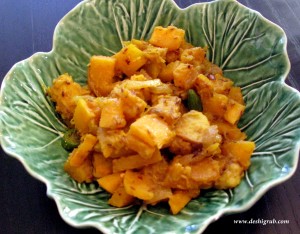 Click image to enlarge
Looking for something simple to make? Then look no further! This dish is quick, healthy and so so delicious!
Ingredients: (Serves 2-4)
1/2 butternut squash (sliced thinly for quick cooking)
1 medium sliced onion (sliced finely)
1/2 tsp salt, 1/2 tsp turmeric powder, 1 tsp whole cumin seeds
handful of fresh coriander/cilantro leaves
1 jalapeno pepper or 2-4 thai chillies
1 tablespoon of olive oil
How to:
1. First peel and slice the butternut squash. Wash and drain well.
2.  On medium heat, fry the cumin seeds in a little oil until almost dark brown in colour.
3. Fry the onion until brown
4. Lower the heat a little, and add the spices as above. Allow the spices to blend into the onions for a minute then add a touch of water to form a little paste
5. Add the sliced squash and lower the heat to low. Allow to cook for 5 minutes. 
6.  Add the chillies (sliced or whole, depending on how hot you like it) then put the lid on and cook for a further 5-7 minutes. 
7.  Garnish with fresh coriander/cilantro.
Recipe & image by Sabina Huq