Baigan Bhaji (Pan-fried Eggplant/Aubergine)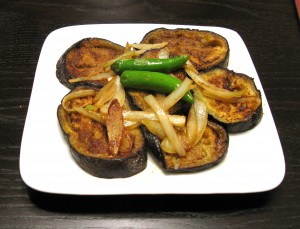 Click image to enlarge
Ingredients:
All you need is one large eggplant/aubergine sliced into rounds.
Spices: 1/2 tsp cumin, 1/2 tsp coriander, 1/2 tsp chilli powder, 1/2 tsp turmeric, 1/2 tsp salt
Cooking oil
Garnish with sliced onions, chillies and danya (coriander/cilantro if desired).
How to:
1. Cut and soak the eggplant/aubergine for a few minutes then pat dry.
2. In a bowl, mix all the spices together with the salt and add the eggplant/aubergine.
3. In a fry pan, pour in about 3-4 tablespoons of oil and fry the eggplant until cooked. Alternatively:  for a healthier version, add a little olive oil in the bowl when mixing and place on the grill instead.  Both ways taste yummy!
4. Garnish with fried onions, chillies, and fresh coriander if desired. To make the garnish – slice 1/2 onion finely and fry for 3-4 minutes in a drop of oil. Add a pinch of salt and 3-4 green chillies. Pour over the top of the eggplant/aubergine once on a serving dish.
Recommendations: Goes well with brown or white basmati rice and is a great accompaniment with Daal (Lentil Curry).
 Recipe & image by Sabina Huq