Roasted Whole Chicken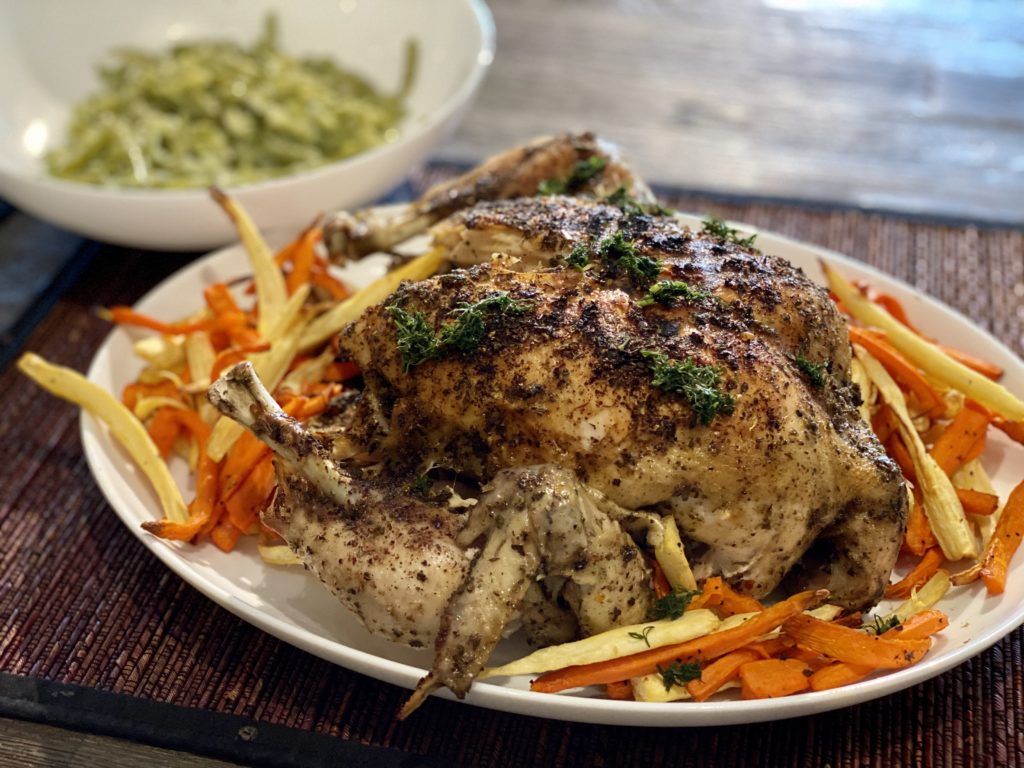 This has got to be the easiest and quickest roast chicken I've ever made. Who would have thought you could make a whole chicken from scratch to table in roughly 30 mins? Not me! But with this Ninja Foodi thingy, we can now achieve the impossible!

Pressure cook for 20 mins / Air fry for 12-15 mins at 400 degrees


Ingredients:
1 Whole Chicken (3.5 lbs-4lb chicken fits nicely in the Ninja Foodi pot)
1 cup of water
1 level tsp black pepper
1 level teaspoon salt
1 level teaspoon smoked paprika
1 level teaspoon garlic powder
4 cloves of garlic (sliced)
1 level teaspoon onion powder
1 tablespoon baking powder (do not substitute for baking soda….trust me)
Avocado oil
How to:
Clean the chicken well and pat dry with paper towels
Measure all dry spices/seasonings into a bowl and mix well using a teaspoon
Rub all over the chicken really well
Pour 1 cup of water and the sliced fresh garlic into the Ninja Foodi cooking pot
Place the chicken in the air fryer basket and put the pressure cooker lid on
Select pressure, high setting, and set the time to 20 mins. Make sure the pressure release valve is in the SEAL position.
After the pressure cooking is done, use a tea towel or silicon glove to quick release by moving the pressure release valve to the VENT position. Carefully remove the lid when unit has finished releasing pressure.
So for this next step – (you can use any type of oil you want, but having learned the hard way, with my smoke alarm going off when using olive oil), I recommend spraying the chicken with some avocado oil. Avocado oil has a high smoke point enabling you to cook at higher temperatures without burning the food.
Turn on the air fryer feature and air fry for 12-15 mins, checking every 5 mins. If you like your chicken crispier, air fry for another couple of minutes. For best results, let the chicken rest for 5-10 minutes before serving. The baking powder should give the chicken a wonderful crispiness….a trick I learned only just recently!

Recommendations: You can try this dish with any type of dry herb seasonings of your choice. Enjoy!

Recipe & image by Sabina Huq