BBQ Skirt Steak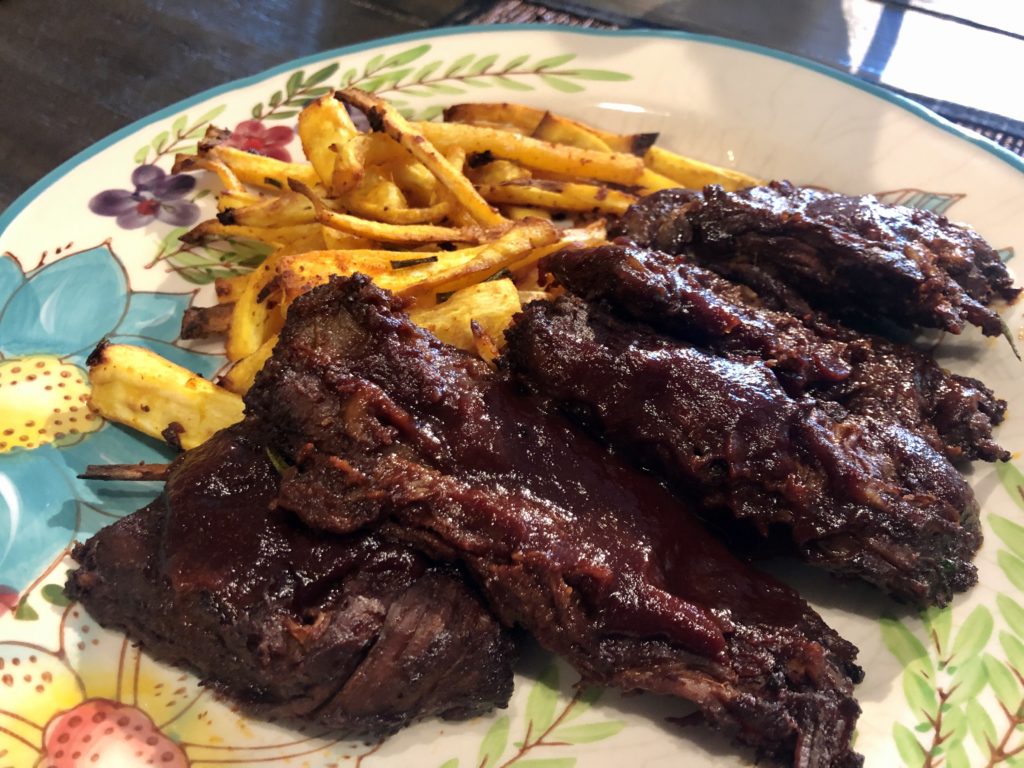 Since Skirt steak is a little tough, you'll want to allow for a much longer time for pressure cooking. Still, even at 38 minutes, you're still on your way to making a winning dinner in half the amount of time it would take in the oven to roast or bake.

Pressure cook for 38 mins / Air fry for 10-12 mins

Ingredients:
Skirt Steak – cut in half and then cut into thick strips about 2 inches wide. Since skirt steak is so huge, I usually make double the amount of rub below and marinate one half for another day.
1/4 tsp course salt
1/2 tsp garlic powder
1/2 tsp onion powder
1/2 tsp smoked paprika
1/2 tsp BBQ rub of your choice (I used Grill Mates BBQ Rub)
1/4 cup BBQ sauce, plus more to top off the skirt steak when air frying. (Your choice. I used the Kinders medium brand).

How to:
Wash the skirt steak trimming off any excess fat. Pat dry really well with paper towels
Cut into 2 inch thick strips
Add all the above ingredients in large bowl and make sure to rub the mixture into the meat well
Place one cup of water in the Ninja Foodi pot and add a tablespoon of BBQ sauce
Place meat in the air fryer basket and place inside the pot. If you have a double rack, you can use this straight inside the pot without having to use the air crisp basket. This will allow you too cook more meat at once.
Using the pressure lid, turn pressure valve to SEAL and set pressure to high for 38 minutes.
Once the pressure cooking is complete, turn pressure valve to vent.
Using a silicon brush, generously add more BBQ sauce to glaze and set air crisp function to 10-12 mins depending on how you like it. Do check halfway and turn over as necessary using silicon tongs.

Recommendations:
Enjoy with fries or rice, and some veggies.

Recipe & image by Sabina Huq