Instant Pot (No Bean) Chili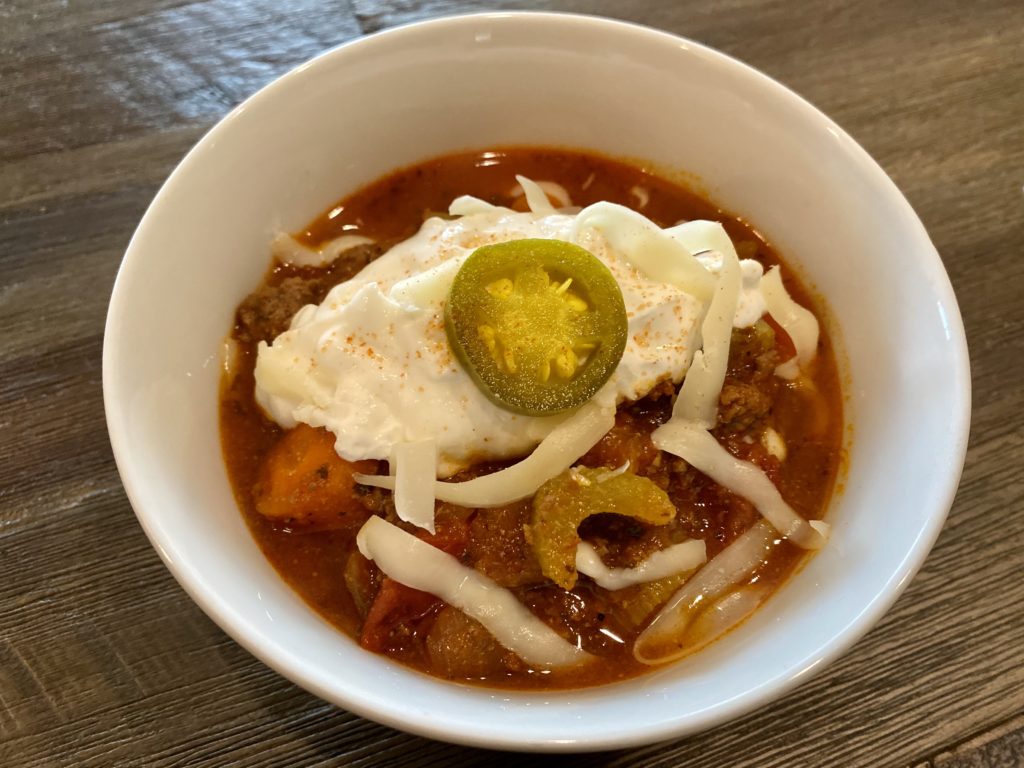 I love making chili as it's super quick, super easy and extremely filling. On those days when I'm struggling with what to make (yes, I have those days too, believe it or not), the chili is my go to for efficiency and convenience.

For this dish, you can make it Paleo or Whole 30 compliant by simply omitting the beans and loading it up with veggies instead. The image above shows a tablespoon of plain non fat greek yogurt and a sprinkling of mozzarella cheese. You can of course serve the chili without either of these to keep it completely Paleo and/or Whole 30 compliant. I just wanted to point that out to show you that I got you covered too!

Ingredients:
1 lb ground beef
1 tablespoon of olive oil
1 medium yellow onion
2 carrots
2 ribs (sticks) of celery
1 green bell pepper
1 can diced tomatoes
3/4 cup water
1 tsp salt
1/2 tsp pepper
1 tsp dried oregano
1 level tsp chili powder (use less if you can't handle the heat)
1 tsp smoked paprika
1 level tsp cumin powder
1 teaspoon garlic powder
1 level tsp cinnamon
1 fresh jalapeno and some cilantro for the garnish (optional)
1 tbsp Greek yogurt (per serving) and a sprinkle of mozzarella (optional of course)

How to:
Switch on the Ninja Foodi and press the saute button. Allow the pot to heat up for a good 5 mins before adding in the oil
Dice up the onion and stir into pot. Saute for a couple of mins before adding the ground beef. Saute for 2-3 mins then add the salt and pepper. Continue to saute until browned
Slice the carrots, celery and green pepper and saute.
Add all spices & seasonings and saute for 5 mins
Pour in the can of diced tomatoes and 3/4 cup of water. Stir well for 1 minute
Assemble the pressure cooking lid and set the pressure valve to Seal. Set pressure cooking time to 10 mins
After the pressure cooking is complete, switch valve to vent. Once all the pressure is released, carefully open up the lid.
Air fry for 6-7 mins to dry up the sauce a little. Enjoy!

Recipe & image by Sabina Huq