Drums of Heaven (Chicken Drumsticks)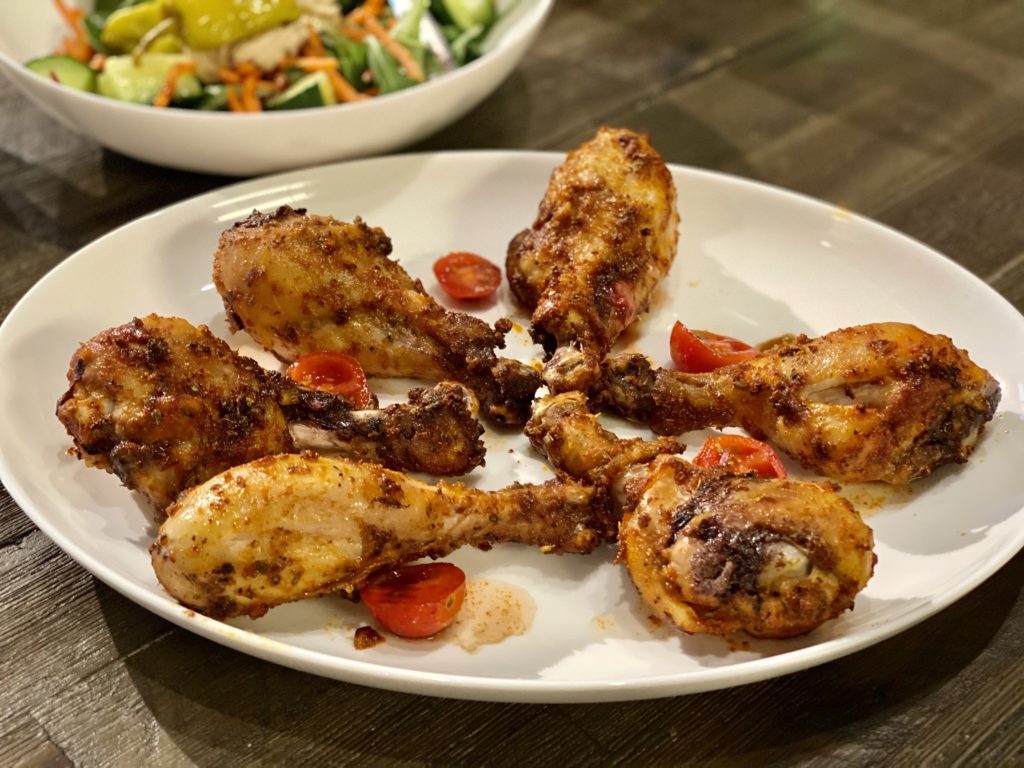 Oh my! If you like spicy, then these chicken drumsticks will not disappoint!

Pressure cook for 10 mins / Air fry for 10-12 mins at 400 degrees


Ingredients:
6 drumsticks (will fit nicely in the air fryer basket without too much cramming)
1/2 tsp of course salt (or whatever you have in the kitchen)
1 level tsp of chili powder
1/2 tsp of paprika (optional)
1 tsp each of onion and garlic powder
1 tablespoon of honey
1 heaped tablespoon of chili sauce or sriracha
1 level tablespoon of soy sauce or if wanting to do gluten free, use 1 level teaspoon of coco aminos seasoning sauce


How to:
Wash drumsticks and pat dry with a paper towel
Mix all ingredients together in a bowl to create a smooth consistency
Rub all over chicken – at this point if you want to marinate it for later, just put it in an air tight container for later use. If not, here we go!
Pour 1 cup of water in the Ninja pot with a generous squirt of hot sauce or sriracha….trust me on this
Next, place the chicken in the air fryer basket (drums down, leg up to form a circle) and put the pressure cooker lid on
Turn to SEAL and set the pressure cooker to High for 10 minutes.
When pressure cooking is complete, carefully switch the valve to VENT for quick release
Leaving everything as is (ie. the water at the bottom of the pot), close the air fryer lid and set the temp to 10 mins at 400 degrees. Make sure to turn over halfway. Air fry for an additional 2 minutes if you like your chicken crispy. Enjoy!

Recipe & image by Sabina Huq.